Join our Approved Supplier Community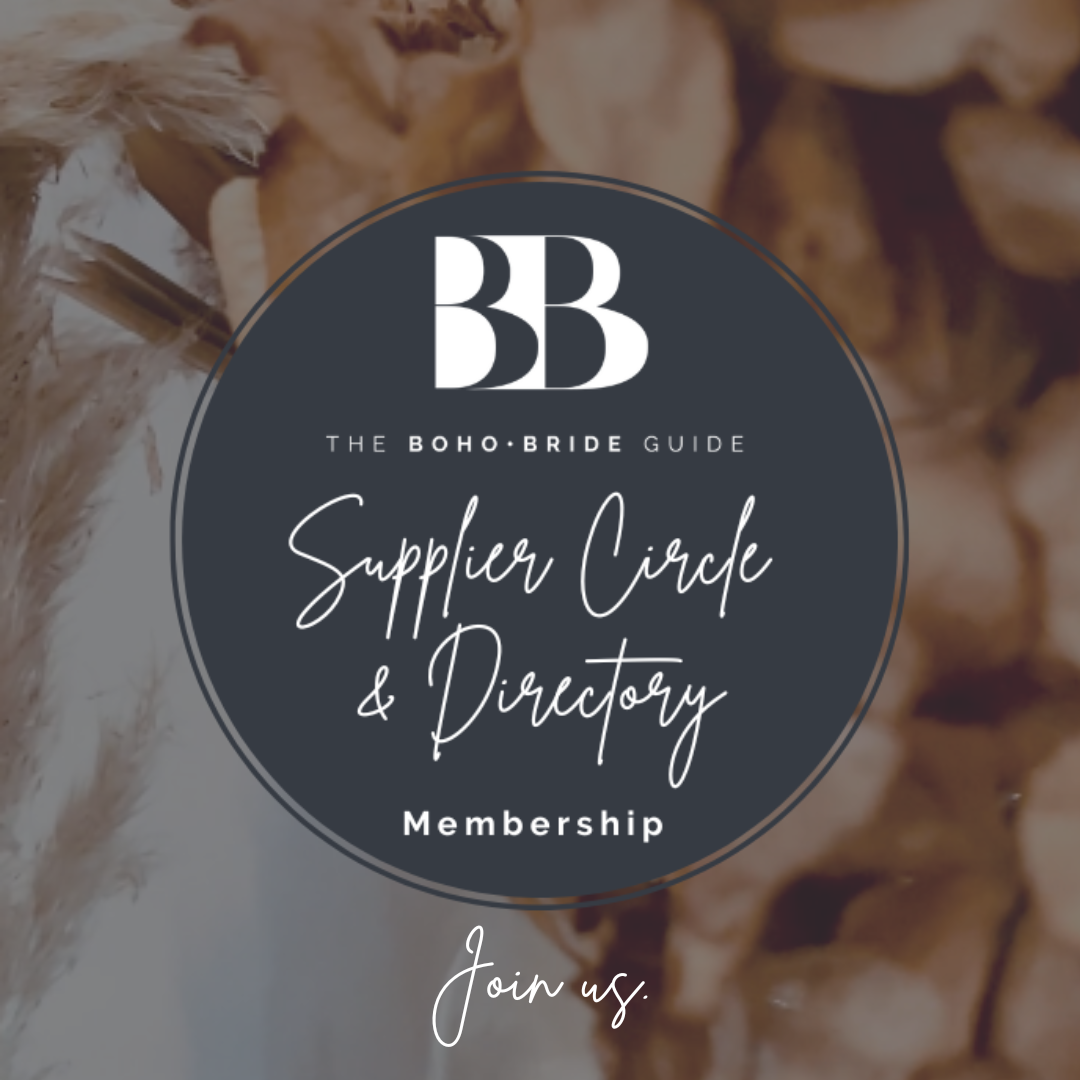 NOW OPEN FOR NEW WEDDING SUPPLIER APPLICATIONS
Are you looking to become part of a championing and cheerleading community of fellow fabulous wedding vendors to support you on your business building ventures?

Are you looking to position your wedding business as a specialist within the boho weddings arena?

Are you looking for more exposure to your boho inspired, eco-conscious target wedding audience?

Did you say hell YES?! - Then read on and find out how our membership can help you!
I'm In! How do I apply?
---
What is The Supplier Circle & Directory Membership?
The Boho Bride Guide is a one of a kind, hybrid Wedding Blog, Directory & Wedding Supplier Community, specialising in fully supporting small business owners to grow their ventures within the boho inspired wedding industry.
When you consider the fact that 'word of mouth' recommendations are even more effective than paid-ads, resulting in 5 times more sales, we place a high value on becoming part of an industry specific community for your business.
Our the Supplier Circle & Directory Membership enables you to take advantage of 'the power of community', and all it can bring when growing your business. Enabling you to grow your network of diverse wedding suppliers, to nurture working relationships and refer each other for future wedding work.
When you join our Membership, you also benefit from featuring on The Boho Bride Guide Directory, as well as having the opportunity to take part in our approved supplier visibility activities and social media shout outs about your business to our online audience.
We are here for you. Each week there are activities for you to get involved in, to share your wins, as well as seek support through tough times and overcoming challenges along the way.
We don't think there is any other wedding industry community out there that supports our wedding suppliers in the way we do!
Apply Now
---
How Do We Help Our Approved Suppliers?
The Supplier Circle & Directory Membership Benefits - In Detail...
1. Join our Cheerleading Community
When you join our membership, one of the biggest benefits you will receive is to become part of our championing and cheerleading community of fellow boho inspired wedding suppliers.

As many of us often work alone, it is so important we are able to connect regularly with other wedding business owners to share experience, and support one another on our journey. We meet each month for our online Referral Circle Meet-up, where we are able to connect and refer each other for wedding work. As well as our 'Lunch Club' meet ups in the week, to check in and say hi. You won't ever feel alone in this wedding business game again!!
2. Get Involved in our Approved Supplier Visibility Activities
We want to help you build that all important 'know like and trust factor' amongst wedding planning couples out there, as well as improve your Google rankings via backlinks from The Boho Bride Guide website.

As an approved supplier on The Supplier Circle & Directory Membership, you will benefit from a bimonthly social media shout out from us, all with an aim of showcasing you as one of our fabulous approved suppliers out to our audiences.

You also have the opportunity to get involved in the following visibility activities to increase your online presence.
As an approved supplier on The Guide Directory Subscription, you will also have the opportunity to get involved in the following visibility activities to increase your online presence.
'Ask the Expert' LIVE on Social Media
Your LIVE with Jen - Founder of The Boho Bride Guide will aim to address pain points your wedding clients experience from within your specific niche. The top tips and advice you share will help them overcome those challenges and reignite their excitement for their special 'I Do Day'.
Top Tips Social Media Carousel
We aim for 5-7 pieces of valuable information from yourself, and we will then create a visual and impactful graphic/ image carousel with your information, and accompanying caption. This will then be used to showcase you and your fabulous business across our social media platforms, which link back to your profile on The Boho Bride Guide Directory.
Wedding Expert Guest Blog Features
As wedding suppliers, your online search engine presence is SUPER important when looking to generate regular enquiries from dream wedding clients.
Strengthening your Google presence by generating backlinks from other established websites over time, will significantly improve your website visibility amongst wedding planning couples searching the Web.
A great way to do this is to share your expertise via blog features on other websites, by writing quality content in your area of wedding expertise. And we would LOVE to feature you as our approved supplier on the Boho bride Guide Blog!
Submit your Editorial Shoot or Real Wedding
We are always looking to bring new and love filled, boho inspired wedding days to our readership and social media audience. Who are looking for inspiration to take and incorporate into their own wedding day celebration. So we love to showcase our approved suppliers' work that aligns with our boho inspired style, eco-conscious ethos, and passion for increasing representation across the online wedding industry landscape.
Tag us to engage with your content
Proud of a particular post you have shared on Instagram? Then we would love to celebrate that win with you and engage with your post! Tag us so we can get involved!
3. Your Directory Profile
Your wedding business will sit amongst our super stylish & exclusive online The Boho Bride Guide Directory - 'Where Bohemian Souls Find Their Dream Wedding Team'.
Your wedding business will benefit from:
exclusive access to our approved supplier online portal, where you can manage and update your own wedding business profile in real time.
upload up to 7 images or up to 2 videos & 5 Images to showcase your work, as well as the opportunity for a comprehensive write up of up to 500 words.
direct social media & website links from your profile, as well as the ability to showcase wedding couple testimonials.
Apply Now